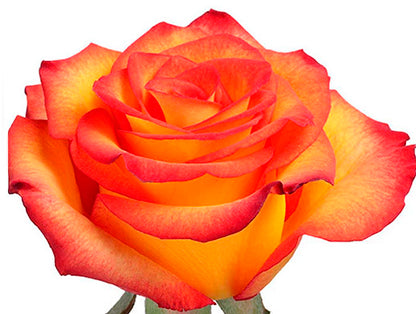 High Magic rose From $2.05 / Stem |FREE SHIPPING | Ecuadorian rose
FREE SHIPPING
Price per 50 cm | 19 inches Stem:  $ 2,05 USD
Price per 60 cm | 23 inches Stem:  $ 2,14 USD
Price per 70 cm | 27 inches Stem:  $ 2,20 USD
Description:
Magic exists! As the name suggests, this rose is magical. Bright yellow, tipped with burned red edges, its petals are the exaltation of the colors of the sun and make it look like none other when it opens up. Choose to have magic in your life! 2,800 Mts over the sea level our beautiful roses are growing.
Color: Bicolor
Color Description: Bicolor Red / Yellow
Lengths Available:  50, 60,70 cm  (Stem)
Bloom Size: Large
Bloom Size Details: 6,00 - 6,50 cm
Vase Life: Long
Availability: Whole year.
Bunch: 25 roses