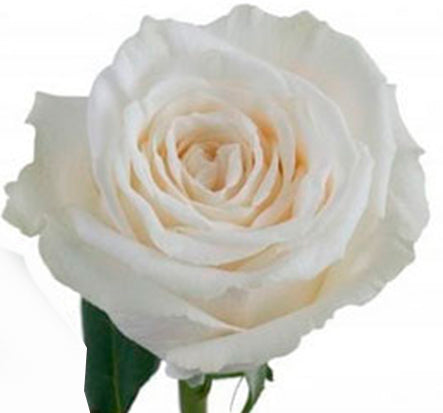 Playa Blanca Rose| From $ 2,35 / Stem I FREE SHIPPING I Ecuadorian rose
FREE SHIPPING
Price per 50 cm | 19 inches Stem:  $ 2,35 USD
Price per 60 cm | 23 inches Stem:  $ 2.39 USD
Price per 70 cm | 27 inches Stem:  $ 2,45 USD
Description:
Named after the southernmost town of the Spanish island of Lanzarote, Playa Blanca is a pure white rose with a double-hearted center. If you look at a Playa Blanca bouquet from above, it appears almost as if a shower of pure snowflakes was scattered over a green cushion. Beautiful and bright, this rose is something to dream about. 2,800 mts over sea level are growing the most beautiful roses in our farms.
Color: White
Color Description: Pure White
Lengths Available: 50, 60,70 cm  (Stem)
Bloom Size: Large
Bloom Size Details: 6,00 - 6,50 cm
Vase Life: Long
Availability: Available the whole year.
Bunch: 25 roses